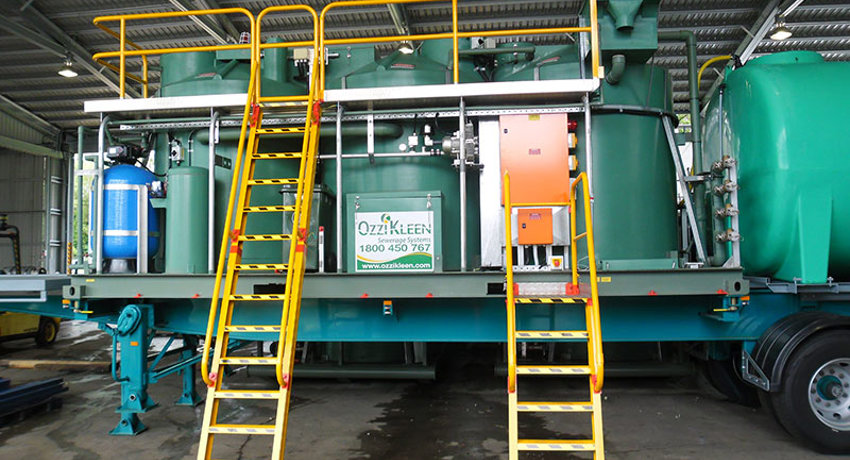 New Ozzi Kleen SK20 Transportable Sewage Treatment Plant
Date: 23-Mar-2010
This NEW Ozzi Kleen Transportable Treatment Plant manufactured and engineered in Australia by Suncoast Waste Water Management is currently being used at mobile mining camps to treat all wastewater onsite.
Suncoast Waste Water Management is now manufacturing these transportable treatment plants that will deal with 4000lt of wastewater per day. The Ozzi Kleen SK20 uses two of the proven and approved 10 person systems mounted on a skid as shown in the photos. The Ozzi Kleen SK20 is equipped with a manual bar screen and in standard form produces a secondary class effluent suitable for irrigation.
The Ozzi Kleen SK20 has been supplied to treat and recycle wastewater at both small mobile camps and small static office blocks. Like the rest of the Ozzi Kleen transportable products, the SK20 is quickly commissioned and decommissioned for relocation.
The Ozzi Kleen SK20 sewage treatment plant is manufactured at the Ozzi Kleen factory which is situated on the Sunshine Coast in Queensland and if required can be customised to suit any situation.
Suncoast Waste Water Management custom builds treatment plants to suit any situation and to achieve any standard of effluent.
Call 1800 450 767 and talk to one of our experienced sales staff or design engineers about your requirements.
Ask us about a water system
Find a Distributor
Back to articles