Benefits of regular servicing and interim maintenance
The Ozzi Kleen range of sewage treatment systems, in accordance with regulatory authorities, will require a monthly service, bi-monthly service, or quarterly service.
Ozzi Kleen understand that each sites operating conditions differ and can offer you a servicing arrangement to best suit your sites servicing needs. An Ozzi Kleen Service Technician can assess your site/s operating conditions and influent characteristics and the Ozzi Kleen commercial service department can use this information to advise you of a site specific servicing frequency that will ensure your Ozzi Kleen continues to treat at optimum efficiency.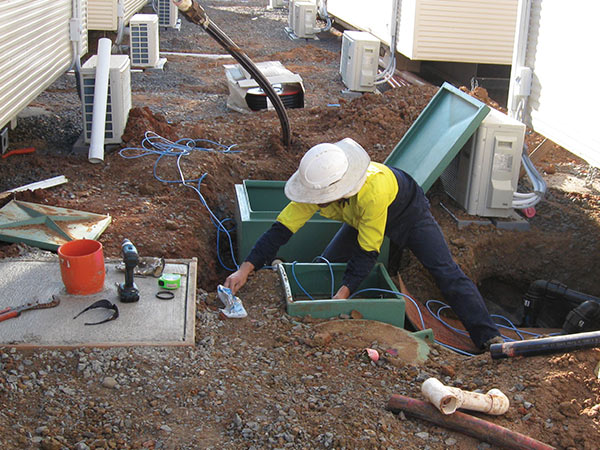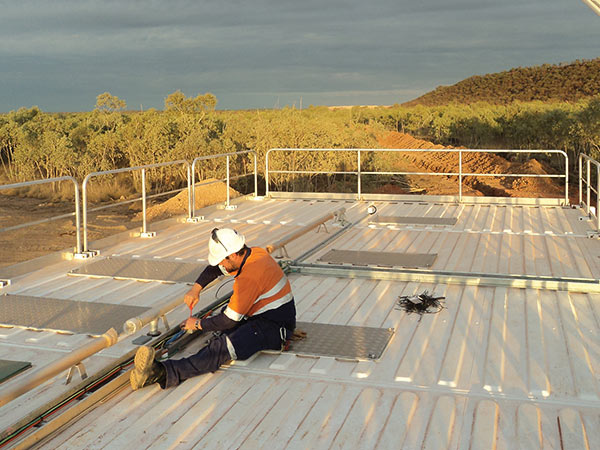 Ask us about Interim Maintenance for your site
Please don't hesitate to discuss any interim maintenance training requirements with the Ozzi Kleen Commercial Service Department by contacting 1800 450 767 or emailing jadeblee@ozzikleen.com
We're working with Santos
Ozzi Kleen has a long standing relationship with Santos GLNG supplying and servicing skid-mounted, relocatable, waste water treatment systems, for their operations and exploration camps. Read more about our work with Santos in our blog.
Documented
Establishment of a Service History Record - beneficial to illustrate that you are motivated to maintain effluent compliance should your site/s be audited by Government/lessor/regulatory parties.
Beneficial
Regular, preventative maintenance helps keep your sewage treatment or water treatment plant/assets in good order, allowing them to be efficiently used and relocated. Sewage treatment or water treatment plants in poor order through lack of maintenance may lead to problems, call out visits, inefficient operation, non-compliance with site/environmental requirements and inefficient relocation – which is costly. Regular servicing offers value through preventative maintenance and potentially aids in avoiding these issues.
Save Time
Where a service agreement is entered into, a purchase order can be raised and Ozzi Kleen can tailor a booking system to best suit your needs. This could include raising an annual purchase order and entering into a "set and forget" style booking system where the Ozzi Kleen Commercial Service Department would automatically contact the Rig Managers to arrange booking dates as each contracted service falls due
Cost Effective
Service bookings included on a service run, instead of a "stand alone" booking whereby yours is the only site we are travelling to attend means prorated travel costs can be divided across the total participants on a service run. Regular maintenance reduces problems – less call outs – less cost incurred.
Interim Maintenance
Ozzi Kleen Interim maintenance tasks should be carried out by site staff in between each Ozzi Kleen maintenance service and is key to keeping your Ozzi Kleen running in normal operating mode. It is recommended that site staff regularly undertake Ozzi Kleen interim maintenance training. An example of interim maintenance tasks would be e.g. cleaning screens, filters, and checking disposal areas and lines for kinks or blockages, checking levels, and how to identify when to contact Ozzi Kleen for further assistance. Ozzi Kleen are able to train nominated site personnel on how to undertake these interim maintenance tasks, as well as go through basic trouble shooting information, and can carry out or refresh interim maintenance training if it is requested when making any Ozzi Kleen Maintenance Service booking. On completion of interim maintenance training, a Training Log will be forwarded for our mutual records.