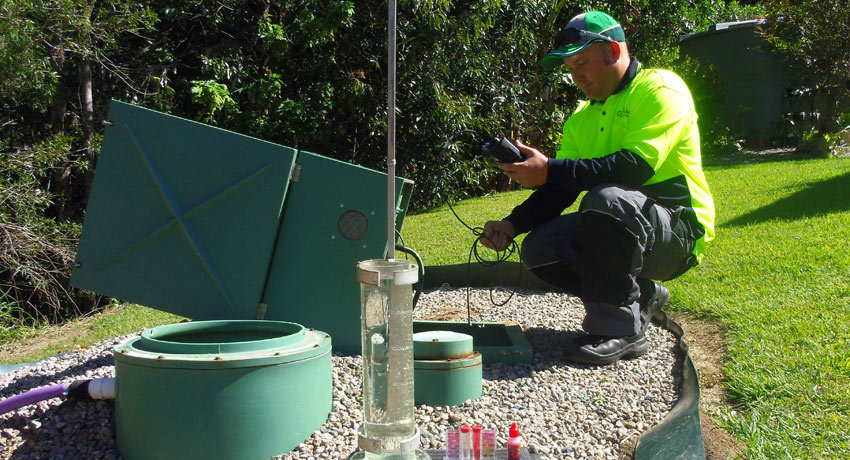 Does your Ozzi Kleen domestic or commercial system require a service?
Date: 18-Mar-2016
There are many good reasons to consider Ozzi Kleen green card accredited technicians to service your Ozzi Kleen Sewage Treatment Plant for both commercial and residential waste water systems.
Low cost of a service carried out by manufacturer trained green card accredited technicians all across Australia.
Even with consumables unless there is something that needs to be replaced your service cost should be less than $100 inclusive.
To keep your system in a healthy condition we have listed below certain criteria for the servicing of your Ozzi Kleen treatment system.
A standard Ozzi Kleen RP10 Household sewage treatment system service takes at minimum approx. 45 minutes in total
The SV30 test takes 30 minutes. This is a settling test to determine the sludge levels in your system
The mesh basket is to be cleaned and remain in the effluent chamber after cleaning, placed back on hook provided
The effluent chamber is to be pumped out (and cleaned) back into the main aeration tank
Motor box & chamber lid fittings must be secure for safety reasons
The decanting head should always remain level
Only approved Ozzi Kleen parts should be installed in your system
Air Blower filter is to be removed and cleaned at every service
Main tank walls and fittings should be washed down at every service, if permitted
All local authorities require all types of domestic sewage treatment plants to undergo regular servicing.
A periodical 3 month service should be performed by an Ozzi Kleen RP10 qualified service personnel. At this time a range of performance and water quality tests are performed. Just like a car requires servicing – so does your Ozzi Kleen RP10 to ensure safe and efficient operation.
A report of this service is sent to your local authority with a copy also issued to you as the Ozzi Kleen RP10 owner. A maintenance log book is kept in the control box of the Ozzi Kleen RP10 sewage treatment system to record the history of the system, both for the owner's and the service person's reference.
Where ever you are located in Australia and you require your system to be serviced then please visit the service page of the website for further information on your local service agent.
Ask us about a water system
Find a Distributor
Back to articles