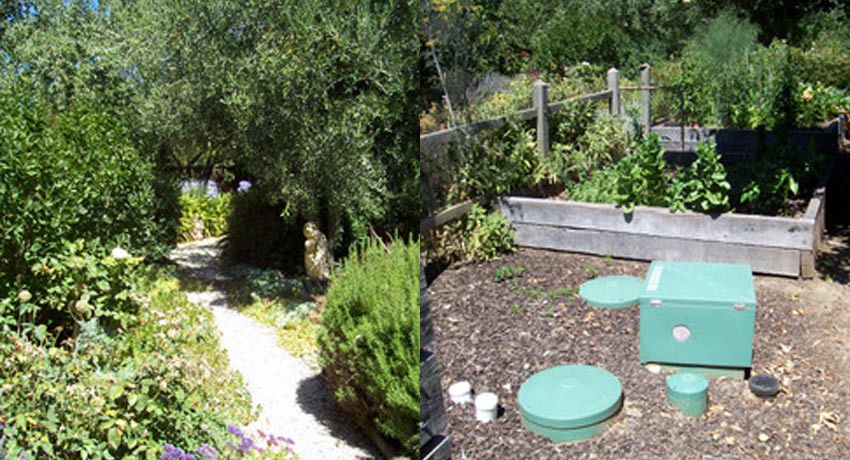 Garden Drought Broken by Ozzi Kleen Aerobic Wastewater Treatment System
Date: 10-Mar-2014
Joan Dalton and her partner David Anderson live in a beautifully restored timber cottage in the heritage listed town of Maldon in the historic goldfields region of Central Victoria. Joan always had a desire to maintain a garden compatible with the design and appearance of the late 19th century cottage. To that end a traditional cottage garden was the logical choice.
During a period of prolonged drought conditions, a regular water supply to the garden, in a town subject to severe restrictions presented a major challenge. The solution was to install an aerobic wastewater treatment system (AWTS - Aerobic Treatment Unit ATU) to capture, treat and reuse all household wastewater.
Joan and David selected an Ozzi Kleen RP10 Sewage Treatment System after researching the range of available products.
After lengthy consultation with the local Ozzi Kleen Agent, an application was made to the Mount Alexander Shire to install a sewage treatment plant in the backyard.
With the support and assistance of the Environmental Health Officer, technical advice and installation by the Ozzi Kleen Agent, Joan has enjoyed the benefit of an Ozzi Kleen RP10 wastewater recycling system for the past four years.
The beautifully established cottage garden was designed, constructed and maintained by Robyn Haylett, a Horticulturalist and Garden designer of many years experience including direct involvement with some of Victoria's best Heritage Public Gardens.
The cottage garden is a lush cool green oasis in a relatively dry and rocky landscape.
Robyn Haylett has described Joan and David's cottage garden as one of the better in the region.
The success of the cottage garden is due to the availability of irrigation water on demand supplied through a relatively simple subsoil system. The bulk of the trees and shrubs are cold climate and temperate zone plants which have flourished as a result of the secondary effluent supplied from the Ozzi Kleen non septic sewerage system.
Joan advises that the system has functioned without any defect or fault since it was installed.
In fact Joan is so impressed with the concept of aerobic wastewater treatment systems (AWTS or ATU) and in particular with the Ozzi Kleen RP10, she believes that an AWTS (ATU) should be a standard inclusion in every new home.
What Joan loves most is that she can enjoy her beautiful garden while reusing all her household wastewater, thereby reducing consumption of first class potable water. Every drop counts.
Ask us about a water system
Find a Distributor
Back to articles